Student Success Story: from CIT student to founder of non-profit organisation in Nigeria, the Saint Hermanguild Foundation
Published: 13 Jan 2023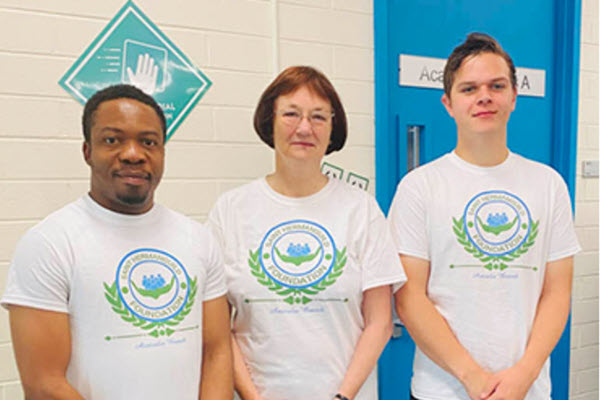 The Saint Hermanguild Foundation is a not-for-profit organisation based in Nigeria. It was established in 2019 by Uzoma Hermanguild Ifeanyi, a graduate and alumni member of Canberra Institute of Technology (CIT).
The Foundation is dedicated to enhancing the lives of thousands of under privileged Nigerians and those living with disabilities. Aiming to alleviate poverty and improve the position of women and children with psychological disabilities, the Foundation also promotes equal opportunity and human rights, as well as support for independent living.
After completing studies across several different fields, Uzoma Hermanguild Ifeanyi used his knowledge from CIT's Certificate IV in Mental Health and the Diploma of Community Services to drive the growth of the Saint Hermanguild Foundation. Studying at Bruce campus in Canberra, he also acquired CIT qualifications in Ageing and Individual Support and a Certificate III in Disability. Uzoma Hermanguild Ifeanyi now serves as Chairman of the Foundation's board of trustees, and has recently formalised an Australian branch of the organisation.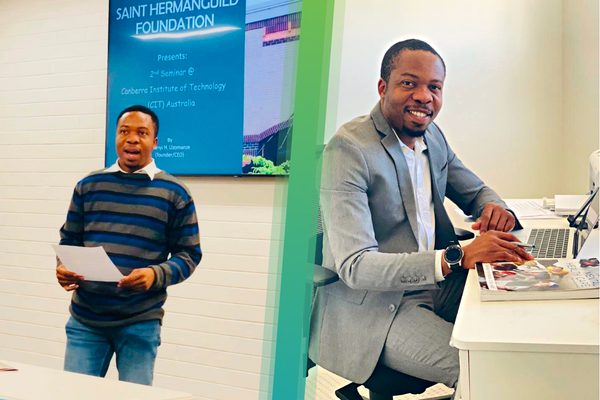 About the Foundation
The Saint Hermanguild Foundation started out in 2008 as a community-based small business centre, providing local people with the opportunity to learn essential computer skills at no cost. As part of the Express Computer Institute Ulakwo, the foundation offered other free education opportunities, supporting learners to build their careers through developing their vocational skills.
Inspired by the success of providing support to the less privileged and people with disabilities, the foundation's founder Uzoma Ifeanyi Hermanguild wanted to do more as a youth advocate and philanthropist. He formally established the Saint Hermanguild Foundation in 2019, inspired by the life and legacy of Saint Hermanguild, who is remembered for his sacrifices and contributions to the community.
Today, the Saint Hermanguild Foundation provides a range of support for people with disabilities and adverse circumstances. They particularly focus on mental health support, providing services for people living with mental health problems in local Nigerian communities. Working with medical practictioners, the board of directors, support workers, and health workers, the organisation continues to ensure that patients and their families have opportunities to live their best lives.
The official inauguration of the foundation will be held on 6 January 2023.
Hear how Uzoma Hermanguild Ifeanyi's studies in Mental Health and Community Services at CIT brought him to build the Foundation.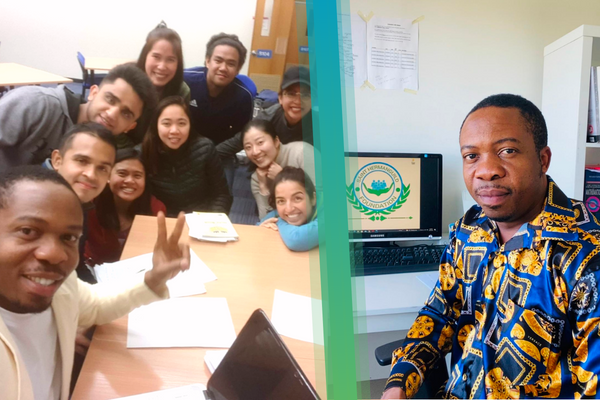 Ifeyani's Story
My name is Ifeanyi Hermanguild Uzomanze, I am a Nigerian. I migrated to Australia in 2016. Prior to that, I completed a Bachelor of Art from Imo State University Nigeria, became self-employed, and worked in few organisations. Saint Hermanguild Foundation is the organisation I established after my Program (Certificate IV in Mental Health and Diploma of Community Services).
Upon arriving to Australia, Canberra to be precise, I enrolled to study for a Diploma in Travel and Tourism in Sydney while living and working in Canberra. Although, my job was not in line with my study, but I loved my job and didn't want to leave it. One fateful day, I started considering changing my course to a related one that would broaden my horizons, since it seemed my job had become what I would want to take as a career.
As a mental health support worker who had little or no knowledge about providing support to people with a mental health issue, coupled with the fact that I came from a country where mental health is not a priority to the leaders, never taught in schools, and the awareness was nothing to write home about.
While I was developing new skills from my workplace, I decided to change my course to Certificate IV in Mental Health and Diploma of Community Services which Canberra Institute of Technology stood out to be the best out of my options. At that stage, I needed the best institute where I would be able to unlearn what we used to believe that anyone who has a mental health issue was, and learn the real meaning of mental health and approaches to provide adequate support to anyone who is experiencing mental health challenge at any stage. In line with this, I sent my application through my Education Agent Mr. Nkem Akachili with a Statement of Purpose where I stated my interest for changing from my previous course to Certificate in Mental Health and Diploma of Community Services. Upon granting my application by CIT, I commenced studies and completed Certificate IV in Mental Health and continued with Diploma of Communities studies.
In 2019, I felt I have had enough teachings to join other mental health advocates in Nigeria in making significant changes on people's perception on Mental Health. I consulted my teachers from Community Services Department and informed them of my interest and vision to establish a charitable organization in Nigeria. The support I received from them can never be over emphasised. We had series of meetings along with given me the opportunity to conduct a couple of seminars for Diploma students at CIT. The turn-out from seminars motivated me more.
Interestingly, I contacted a few people in Nigeria from different professions and they all saw reasons to be part of it. We registered the Organisation with the Ministry of Women Affairs and Vulnerable Group Imo State as Saint Hermanguild Foundation. In 2020, we registered the Foundation with Corporate Affairs Commission, Nigeria and since then we have established the Foundation in five (5) different states of Nigeria, namely; Rivers State (Port Harcourt), Lagos, FCT Abuja, Cross River State (Calabar), and Owerri (Imo State) which is the head office. We also have about 150 volunteers and supporters from all over the world.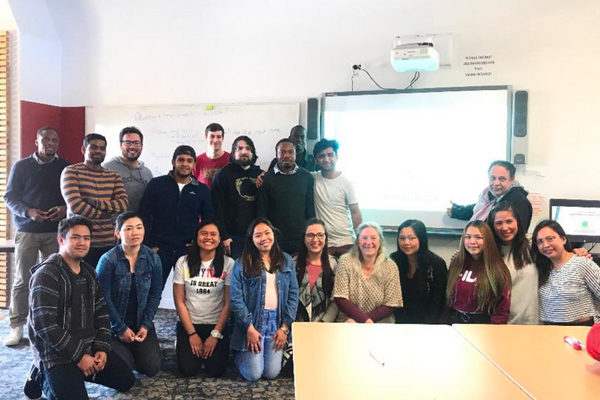 Saint Hermanguild Foundation Inc. has been carrying out series of Mental Health Awareness through mental health education, sensitisation programs on drugs and alcohol in communities, webinars, Annual August Meetings for women, visits to Destitute Homes and psychiatric hospitals, and psychosocial supports by the group of SHF's psychologists, sociologists, and psychiatrists, who volunteers free services to the community.
Also, Saint Hermanguild Foundation Inc. has joined The World Federation of Mental Health (WFMH), World Health Organisation (WHO), and other individuals and groups in the global event of mental health awareness celebration which occurs every 10th of October. Since 2020 until now, SHF has been part of the celebration. Hopefully, the 2022 celebration will be a memorable event as the secondary schools that took part in the 2021 celebration would be testifying the impacts of Mental Health Education which was incorporated in their extra-curricular activities by the Foundation in collaboration with the school's management.
Although, lack of funding has been a hindrance to reaching out to as many people as we would have otherwise loved to, considering the numerous activities we are yet to carry out. We have professionals who are ever ready to discharge sound mental health support at any point they are being called upon.
Currently, I have established a branch of Saint Hermanguild Foundation in Australia to enable the organisation to achieve its mission and goals. The Australian branch has officially registered as an Incorporated Association and proceeded with registering with the Australian Charity and Not-For-Profit Commission.
In the same vein, it has not been so easy for me, but knowing that I can use the skills and knowledge I acquired from Canberra Institute of Technology (CIT) to make a significant change in people's lives, I will continue to take the bull by the horn.
In conclusion, I sincerely appreciate my teachers and the management of Canberra Institute of Technology (CIT), and everyone who has made this foundation reach its current stage. Through our programs, a lot of people have begun to appreciate our efforts and perseverance in reaching for the well-being of society in general.
-Ifeanyi Hermanguild Uzomanze
Where could a career in Community Services take you? Learn more.