CIT International Student Orientation Event - 2:30pm Thursday 21 July 2022
Published: 13 Jul 2022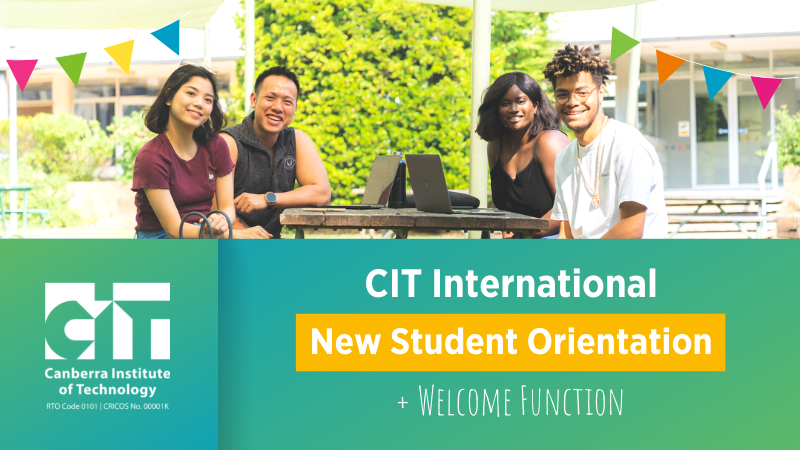 Hey, are you a NEW international student? eep reading for more information if you're starting your CIT course this July!
If you have accepted your offer and are going to study with us at CIT this semester, please make sure you have registered for the upcoming CIT International New Student Orientation Session on Thursday 21 July 2022.
Orientation is the perfect chance to meet fellow students and make new friends while preparing yourself for success during your course. It's a great networking opportunity where you will meet CIT staff, your teachers, college directors, student advisors, and Pastoral Care Officers at the event, as well as team members from CIT International and CITSA (CIT's Student Association). To help you settle in, student ambassadors will also be there to answer any questions you have about student life at CIT or what it's like living in Canberra.
During Orientation, you will also learn about support services available for international students, industry placements throughout your studies, employment opportunities, and more. You will have the chance to familiarise yourself with a campus tour! It's important to attend as you will also receive important information about your course and be able to enrol on the day.
It's a fun event so be sure to check your emails for the invitation and register before the day.
Registration is mandatory to attend the event for enrolment and catering purposes.
We can't wait to meet you all and warmly welcome you to your study journey at CIT, Canberra's TAFE! Orientation is the opportunity to kickstart your learning journey, so don't miss out and register today through your email invitation.
If you did not receive an invite, please contact our friendly team.
Contact Us
T: +61 2 6207 4662
E: international@cit.edu.au
Note: This event is for NEW students ONLY.
By registering for this event you automatically give us media consent for photos and videos taken on the day to be used in future marketing and communications collateral.