Bhutan Media Student Leaves Important Legacy
Published: 13 Dec 2016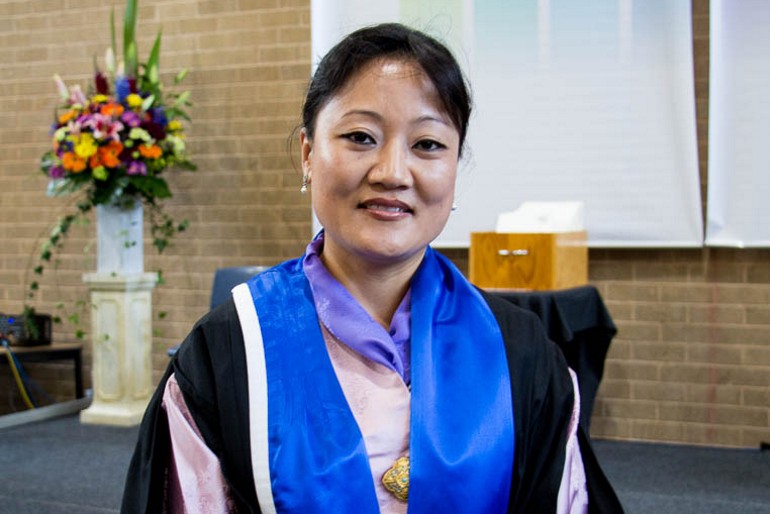 Tashi Choden, from Bhutan, delivered the student thank you address at CIT's 2016 international student graduation ceremony.
CIT International student Tashi Choden's final media assignment says a lot about her culture and country Bhutan, one of the world's newest democracies.
Tashi expects to use the skills she's learned during her CIT study for an Advanced Diploma in Screen and Media to contribute to the development of a new screen culture in Bhutan, a small but rapidly developing Buddhist nation nestled in the Himalayas. But before she departs, Tashi will leave an important contribution to tackling a growing poverty issue in Australia.
Bhutan is one of the top ten countries international students hail from to study with CIT. More than 1,560 international students from 80 countries chose CIT for their training in 2016.
A colourful graduation ceremony at CIT Bruce last week saw 115 students, their families and friends celebrate their achievements. Tashi delivered the thank you speech on behalf of CIT international students at the ceremony, the second in her family to graduate from CIT.
Tashi's studies were supported by an Australian Government Endeavour Scholarship. Without it "studying in Australia would have just been a dream", she said.
"I had the most enriching experience, meeting classmates from many different backgrounds", she said before the graduation ceremony. The CIT "teachers were all great, they have a lot of experience in the [media) industry."
"I'm already working in the Bhutanese public media organisation, so there are a lot of skills that I've learned". Her CIT teachers taught her "to look but not what to see".
Tashi began working for the Bhutan's publicly-funded media organisation in 2002, just three years after television was introduced to Bhutan. A new Bhutan film and television school will be opening soon, she says.
"We're moving more towards camera (video) journalists so I'll be able to do more of this on my own. Also if some of my colleagues need help with cameras, editing or even outside broadcasts, that's something new I learned here. I'll be able to do that."
For her final assignment Tashi produced a 10-minute documentary revealing the struggles faced by older homeless women in Canberra, a project she intends to continue to work on before heading home.
"It's very difficult to access homeless women because of the stigma," Tashi said. To get around that her documentary follows Older Women Lost in Housing (OWLS) founder and advocate Penny Leemhuis.
The film is "about how she came from a normal life down to becoming a homeless woman. It was just an accident and her life went spiralling down." "It was a real eye opener for me", Tashi said.
Uncovering poverty in a wealthy western democracy may have surprised Tashi, but her experience accords with the Bhutan Government's belief "that amassing material wealth does not necessarily lead to happiness". Bhutan measures its development progress not by calculating Gross Domestic Product but the country's Gross National Happiness, a novel but increasingly popular concept.
Tashi says once a longer cut of her documentary is finished she'll gift it to OWLS to help support its campaign for housing security for older women in Australia - a true learning exchange between our countries.