Save the date: CIT International New Student Orientation – 2 February 2023
Published: 17 Jan 2023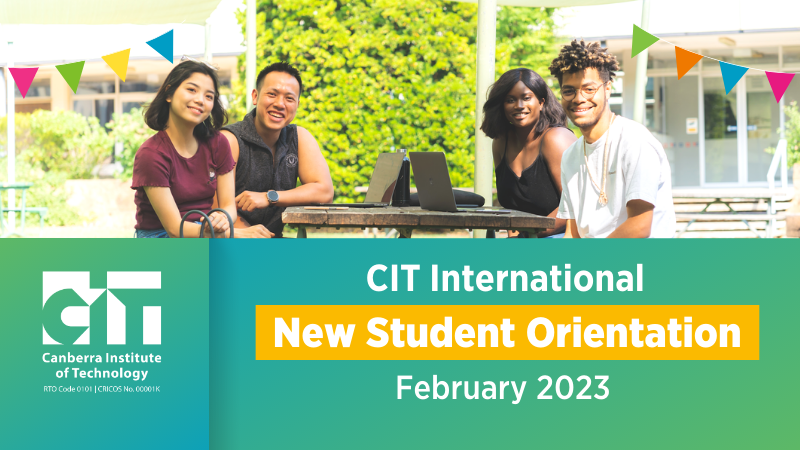 Our February 2023 New Student Orientation session is right around the corner!
A warm welcome to our new and existing students from around the world. We're excited for you to join us for a new year of learning. If you're a new international student starting a program this year at CIT, the February 2023 CIT International Student Orientation session is coming up!
It's a fun and informative event for new students, designed to kick start your program and set you up for success at CIT. During Orientation, you will learn about support services available for international students, employment opportunities, and important information about your course and enrolment.
Orientation is the perfect chance to meet fellow students and make new friends while preparing yourself for success during your course. It's a great networking opportunity where you will meet CIT staff, college directors, student advisors, and pastoral care officers at the event.
Orientation Details:
Event: CIT International New Student Orientation – February 202
Date: Thursday 2 February 2023
Time: 10:30am – 2:00pm (approximately)
Location: CIT Restaurant, 1st Floor K Block, CIT Reid
Details: Information session for new international students starting a course this year (returning students are not required to attend)
RSVP: by Tuesday 31 January 2023
HOW TO REGISTER:
Please be sure to check your emails for the invitation with details and register online before the day.
Registration is mandatory to attend the event for enrolment and catering purposes.
Why join Orientation? 🤔
Numerous research findings have demonstrated the linkages between future success of studies and elements of joining an orientation program. New students who attended the orientation program tended to have better academic success!
You will also meet team members from CIT International and CITSA (CIT's Student Association), as well as other student ambassadors. They will be there to answer any questions you have about student life at CIT or what it's like living in Canberra.
Other benefits of attending orientation include:
The opportunity to meet other students, bond through icebreakers, and learn about your new home together over some fun activities
Access to learning resources available to you by gaining a quick overview of your college's facilities and capabilities
Checking out activities on campus
... and much more!
We can't wait to see you there!
We can't wait to meet you all! We are excited to welcome you to your study journey at CIT, Canberra's TAFE! Orientation is the opportunity to kickstart your learning journey, so don't miss out and register today through your email invitation.