International Student Orientation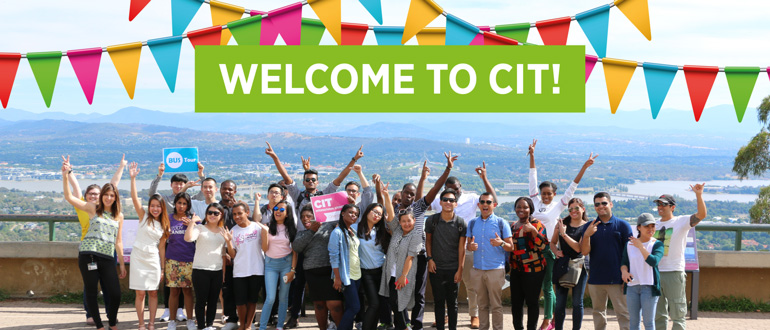 Orientation is designed to welcome new students to CIT and to make sure you receive the support and advice you need to enjoy your studies and life in Canberra.
Orientation is a great chance to meet other students, meet CIT staff and teachers, familiarise yourself with the campus and receive important information about your enrolment.
New international students must attend the following events:
2
Course Orientation
1st February 2019
Reid or Bruce Campus
Times confirmed at Day 1 event
*Course orientation for Building and Construction students will be held on Monday 4th January 2019
These compulsory* orientation events are held each semester for international students who are about to start their mainstream course.
*If you are enrolling to study English you do not need to attend this orientation until you are due to start your mainstream course. English courses have a small orientation event provided by CIT International and the CIT English Centre on the first day of your studies.
What does the day include?
Market session
Walk around the market stalls and talk to CIT services and Canberra community organisations. Ask questions and collect information, handouts and free stuff!
Meet CIT staff and other students in your course.
Find out how you can enrol.
Free lunch
Free lunch and refreshments will be provided throughout orientation day.
Guest speakers
Guest speakers will provide important and useful information that will help you adjust to study in Australia. You will learn about what student support services are available at CIT and in the Canberra community.
Event 1 - CIT Orientation
Timetable:
Presenters from CIT, CIT Student Association (CITSA), Allianz OSHC, Australian Federal Police (AFP) and more...

College breakout sessions – an opportunity to meet your College Director and students in your college

Market Session - Walk through the stalls at the Market session. Talk to the experts. Find out what services are available at CIT and in Canberra!

Optional Canberra activity arranged by CITSA (to be confirmed)
Location:
CIT Reid - 37 Constitution Avenue, Reid
Campus Map:
Parking:
Free parking will be available at the CIT Orientation on 31st January 2019. Use vehicle entry 4 (as shown in map above).
Note: Students studying at CIT Reid will be required to arrange and pay for parking after this date. Limited places are available for discounted parking at CIT Reid. Once you have your CIT student card you can apply here.
Parking at CIT Bruce is free.
Need more information about the CIT International Orientation Day?
Contact CIT International.