CIT-CSU Business Degree Signed Off
Published: 19 Apr 2017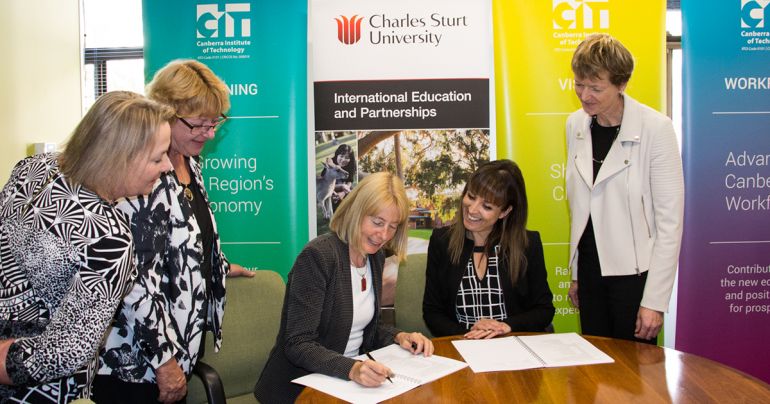 CSU Business, Justice and Behavioural Sciences Exec Dean Prof Tracey Green and CIT Business, Tourism and Accounting Director Elizabeth Nair witness the new CIT-CSU Bachelor of Business MoU as CIT Deputy CEO Carolyn Grayson, CSU Pro- Vice Chancellor Prof Heather Cavanagh [R] and CIT CEO Leanne Cover [L] look on.
CIT's successful delivery of the popular Bachelor of Business Studies (BBS) for Charles Sturt University (CSU) will continue to 2020. CIT and CSU yesterday signed a fresh Memorandum of Understanding (MoU) extending the partnership for another three years.
The CIT-CSU partnership on this highly regarded degree program began in 2009 when their first MoU was signed.
The BBS program, designed to provide pathway opportunities for CIT's graduates, has evolved over the more than seven years CIT has delivered it on CSU's behalf.
Today its integrated, flexible delivery model attracts local college students wanting to head straight into tertiary education.
A broad range of CIT programs also provide entry pathways for students to study the BBS.
Many international students are attracted by the BBS's reputation for high-quality teaching and to seek an opportunity to apply for a post-study working visa.
This year, CIT has seen one of the largest intakes into the BBS program, a testament to CIT's long and successful partnership with CSU.
CIT CEO Leanne Cover and CSU's Professor Heather Cavanagh Pro-Vice Chancellor and International Education Partnerships signed the new MoU at a ceremony at CIT Reid yesterday.